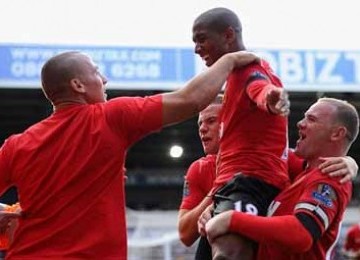 Britain's best football clubs, Manchester United, wants to develop wings to Asia.
They want to enroll in a number of Asian stock exchanges.
English clubs are hoping to get 1 billion dollars from the sale of shares in Singapore.
Thus the daily De Volkskrant and NRC Handelsblad, Friday (19 / 8).
Man-U American millionaire Malcolm Glazer bought in 2005 for 790 million euros.
Now that Glazer wants to release 30 percent of its shares.
Swiss bank Credit Suisse will lead the share sale in Singapore.
It is not strange MU choose Asia.
According to them, 200 of the 300 million of their fans live in Asia.
In Indonesia, for example, a poster of the United players on display in many homes.
And many people could name the players outside the head.
Last July this club in 12 countries around Asia, including Indonesia.
While fans in Britain reacted somewhat negatively.
This is because Glazer refused to maintain good relations with fans in Britain.
They do not trust the good intentions Glazer.
British investors are also worried they could not compete with brokers in Asia to gain share.
European clubs are popular in Asia.
Singapore Peter Lim millionaires last year tried to buy Liverpool FC.
Malaysian millionaire Tony Fernandes, AirAsia's founder, intends to buy the London club Queens Park Rangers.
To maintain the popularity of the MU should still play well and win from your opponent.
Asians are known to be loyal and just love it when the boom.
If they lose then immediately traded t-shirts with another ball club and sold the stock.